Top 14 Ski Essentials: What To Wear On The Slopes
Top kit tips ready for your ski holiday...

Skiing and snowboard holidays are the perfect getaway – glistening slopes, stunning surroundings and that unbeatable mountain air. However, don't forget that skiing and snowboarding are active sports and while you're steaming around the place, leaping about and falling into snowdrifts, your clothing selection can really make or break the holiday. Read on for a quick kit checklist…

The importance of ski socks goes far beyond the jazzy patterns. Made out of either synthetic or woollen material, they provide warmth, comfort, and moisture wicking properties to ensure that you avoid the bite from Jack Frost. Matching pair optional, smell subject to personal hygiene.
I know it may be hard to tear yourself away from the comfort of cotton but we promise wicking underwear is the way forward! Not only does it dry faster than cotton-based garments, it also draws perspiration away from the skin, leaving you feeling fresh and ready to go.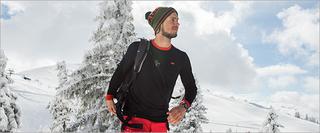 For those truly harsh temperature days on the mountain, a thermal base layer is your best friend. Merino wool base layers in particular work their magic to retain insulation even when wet, whilst providing immense comfort. Cotswold Outdoor stock some of the best around, in case you were wondering.
The mid layer is the main item of clothing that traps in that vital body heat that's so precious up in the mountains. Mid layers range from tight-fitting, synthetic fleeces to more free-flowing hoodies and jumpers. It is usually the layer that's most prominent at après ski too, so fashion rules apply!
Always the hardest choice, it seems! Whatever style route you go down, make sure the outer shell is wind and water-resistant as this is its primary purpose. Breathability is also a crucial factor to avoid any steamy conditions underneath your jacket. All quality jackets should have synthetic or down insulation for added warmth.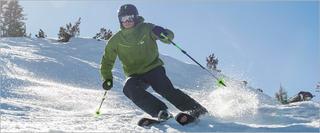 Whether you like them baggy or tight, ski pants (sometimes called salopettes) need to tick the boxes in a number of ways. Quality insulation, zipped ventilation and waterproofness are the three most important factors. It doesn't hurt to have a good number of pockets too.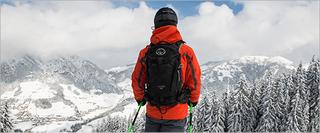 These can come in real handy when on the mountain. A quality backpack should have sufficient capacity, boasting a good amount of pockets and compartments. A combination of shoulder, chest and waist straps will help improve security and improve the fit when wearing the bag.
Part of the essential trio if you ski off-piste at all. They transmit an electronic signal when skiing and should someone wearing one get caught in an avalanche then the others in the group switch theirs to receive to help locate them. A probe and shovel complete the trio.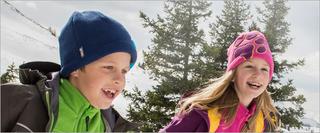 Beanies are pretty critical in the high mountains. Chilling on the deck chairs at lunch, walking round the village after a hard day's ski – just whenever your ears need a hug! You can have a lot of fun with hats, so don't be scared to get creative and be a bit outlandish.
A fun and fashionable accessory to your ski outfit. Alongside the obvious need to keep in warmth, quick drying fabrics and breathability are two product features you should be looking out for. Neck warmers are multi-functional too – you can wear them as a hat, a scarf, use them to cover your face on powder days to stop you getting a mouth full of snow or keep your face toasty on very cold days.
11. Waterproof Gloves Or Mittens

Ever tried holding a ski pole with frozen hands? We can assure you it's not easy or pleasant! Make sure your handwear is up to scratch – waterproof construction with insulation technology is a must. Separate thermal inners are always a good save if you need that extra bit of warmth in your fingertips.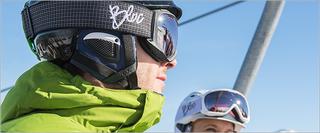 Make sure you have different lenses for all conditions, from low-light days to clear, blue skies. Interchangeable lenses are available with most goggles brands nowadays if you don't want a separate pair of goggles altogether. Top tip – take your helmet with you when buying goggles to make sure they sit right, without a gap in between the two.
Look for lenses that block 99% or 100% of UVA and UVB rays, or say UV 400, which basically means the same thing. Some people love skiing in glasses, and if you use a helmet take your sunnies along when buying the helmet to make sure they work together. Even if you don't ski in them, sunnies are an essential piece of kit for lunch on the sun terrace.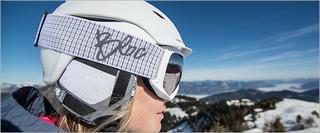 A 'must have' amongst many skiers and boarders. They come in all shapes and sizes so if you are planning on buying one, make sure it sits nice and snug on your head with decent ventilation for breathability. You never know when you might need a helmet so it doesn't hurt to wear this at all times when skiing or boarding around the mountain.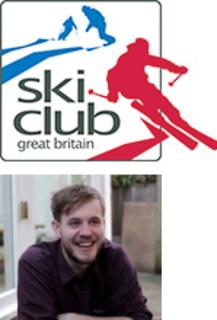 Posted By

James Street / Ski Club of Great Britain
This essentials list was provided by the Ski Club of Great Britain. The Ski Club is the largest membership organisation of snowsports enthusiasts in Great Britain, offering anyone who joins a whole host of benefits to help them get the most out of their skiing. Cotswold Outdoor customers can save 25% off Ski Club membership, when using code COTS1415 at skiclub.co.uk
Full terms can be seen at skiclub.co.uk/terms.