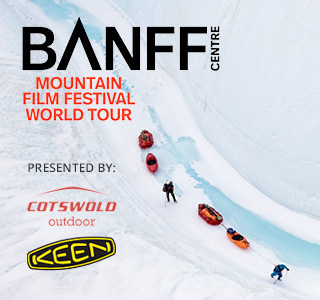 Banff Mountain Film Festival
Inspiration on the big screen – the UK and Ireland Banff Mountain Film Festival 2018!

It's adventure time! The Banff Mountain Film Festival World Tour is back in the UK and Ireland for 2018 and we're proud to be the presenting partner for the 6th consecutive year. 

Starring the world's top adventurers and most fearless film-makers challenging themselves in wild and remote corners of the planet, the event features spectacular cinematography, extreme expeditions, and inspirational characters. And with two different film programmes to choose from, you can even go twice (discounts available at selected venues) for double the action!
The short films are carefully selected chosen from hundreds entered into the Banff Mountain Film and Book Festival, which is held every November in the Canadian Rockies.
Each screening has a real festival feel, and there are free prize giveaways at every show too!
The tour runs from January to May and visits over 50 locations around the UK and Ireland. For more information and tickets see www.banff-uk.com.
And for a three-minute taste of the action, watch 2018's breath-taking trailer!
Watch The Official Tour Trailer - 2018 Banff  Mountain Film Festival
The 2018 Banff Tour films will include a collection of the latest and best films from around the world.
Two unique and entirely different film programmes will feature on the Tour - the RED and BLUE programmes.  Take a first look at the 2018 film programmes below.

Yorkshireman Ben Page sought an adventure of perfect solitude in the Canadian Arctic. Yet the harsh truths of travelling in such a formidable environment are a long way from the romanticisms of a Jack London book.
On a wild bikepacking journey, as the latitude gets greater and the mercury falls below -30C, Ben discovers what it truly means to travel alone in this great emptiness...
Have you ever been that little kid sitting in the back seat of your parents' car, wishing you were somewhere else? So you imagine a skier on the side of the road, your fingers commanding back flips and roof drops, improbable rail slides and huge airs. Well, what if your imagination came to life?
Maureen Beck may have been born missing her lower left arm, but that hasn't stopped her from going hard. She pushes her "stump" to the limit, takes whippers on 5.12, and crushes overhanging boulders, while shotgunning beers between burns. She certainly isn't making excuses for herself though, "I don't want to just be a good one armed climber," says Beck. "I want to be a good climber."

Follow three National Geographic 'Adventurers of the Year' – Ben Stookesberry, Sarah McNair-Landry and Erik Boomer – as they embark on an extreme kayaking mission in Greenland.
At the ripe old age of 90, Yvonne Dowlen has been ice skating for as long as she can remember. Edges is a celebration of a remarkable life well lived.

Intersection: Micayla Gatto

Mountain biker Micayla Gatto takes the viewer into her world as a painter and as an athlete, riding through beautifully created masterpieces where colours come to life and reality blends with art.
Ben and James decide to travel to the Ecuadorian Amazon, live with an indigenous community, learn from them how to build a canoe from scratch, then take that canoe on a journey… What could go wrong?

Forty-three countries down, Hera van Willick rides her bicycle across continents, fully self-supported, sharing her journey and what she has learned along the way.
For most climbers, it's safety first. But Brad Gobright is definitely not most climbers. This young talent is pushing the limits of scary trad and free solo ropeless climbing in his backyard playground of  Eldorado Canyon. Brad is determined to make a first-ever free solo of one of Eldo's most exposed and difficult routes.
For The Flying Frenchies, thinking out of the box isn't a choice – it's a way of life.
Where The Wild Things Play

There's an ongoing discussion of why there aren't more females in the adventure industry; whether it's in big mountain skiing, climbing, or whitewater kayaking. Well, it's about time we found out Where the Wild Things Play!
For freediver Johanna Nordblad, diving under the ice provides a surreal, calming environment that helps heal her injuries.

Please note the film programmes are subject to change.